We sell products primarily from our own farm(Neighbor to Naustferie), as well as a few products from other local producers. Ordering is currently by phone.
Follow our Facebook page- Sjøtunet – for open cafe.   Alf +47 970 39 591 or Torunn +47 907 04 190.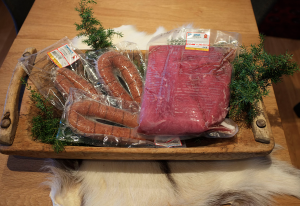 Meat
We sell fenalår (cured leg of lamb) and pinnekjøtt (lamb ribs) from mountain-grazed animals from Hamlagrø. Calf steak, chops, sausage and goat products from Kvamsøy, as well as other products from our own animals. Everything is prepared at Evanger sausage factory. The animals have enjoyed a good life in the fresh air – and this shows in the taste.
Skins
Skins are available in all shades of colour, from spelsau sheep, calf and goat. Come in and choose your favourite! Ideal as a gift, for your cabin or at home in the lounge. The quality of the skins is evidence that the animals have lived out on fertile ground.
Raspberries
The berries grow on wild land on sunny slopes, with light from over the fjord and Folgefonna glacier. The variety is Glenn Ample, which provides dry and sweet berries for deserts and jams.
* The raspberries are sold in buckets and baskets.
Plums
Opal, Victoria, Reeves and many other varieties are to be found here. Choose first-rate plums for your fruit bowl or plums for jamming or preserving.