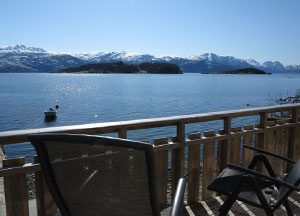 Boathouse Holiday on the Hardanger fjord
"Naust" /Boathouse apartment is situated in a sheltered south-facing bay at Rykkje near Øystese in Hardanger and is a part of the Fyksesund landskapspark. From the living room window you can see the fantastic view over the Hardanger fjord and Folgefonna glacier. We rent a cabin of very high standard located on the edge of the beautiful Hardanger fjord.
Here you can sit on the porch to enjoy your morning coffee while watching the fish jump in the fjord. Then you can take a morning swim on the beach below the boathouse. It is a large dock and a boat for hire for fishing and sightseeing. If you are lucky you'll have a fresh fish dinner.
There is plenty of space with a large outdoor area. The cabin was built in 2010 and is 100m2 over 2 floors, were the 1st floor is accessible for wheelchair users. There are beds for 6-8 people in 3 bedrooms and 2 bathrooms.
Rykkje located in Kvam heard, 8.5 mil from Bergen – 6.5 mil from Voss.